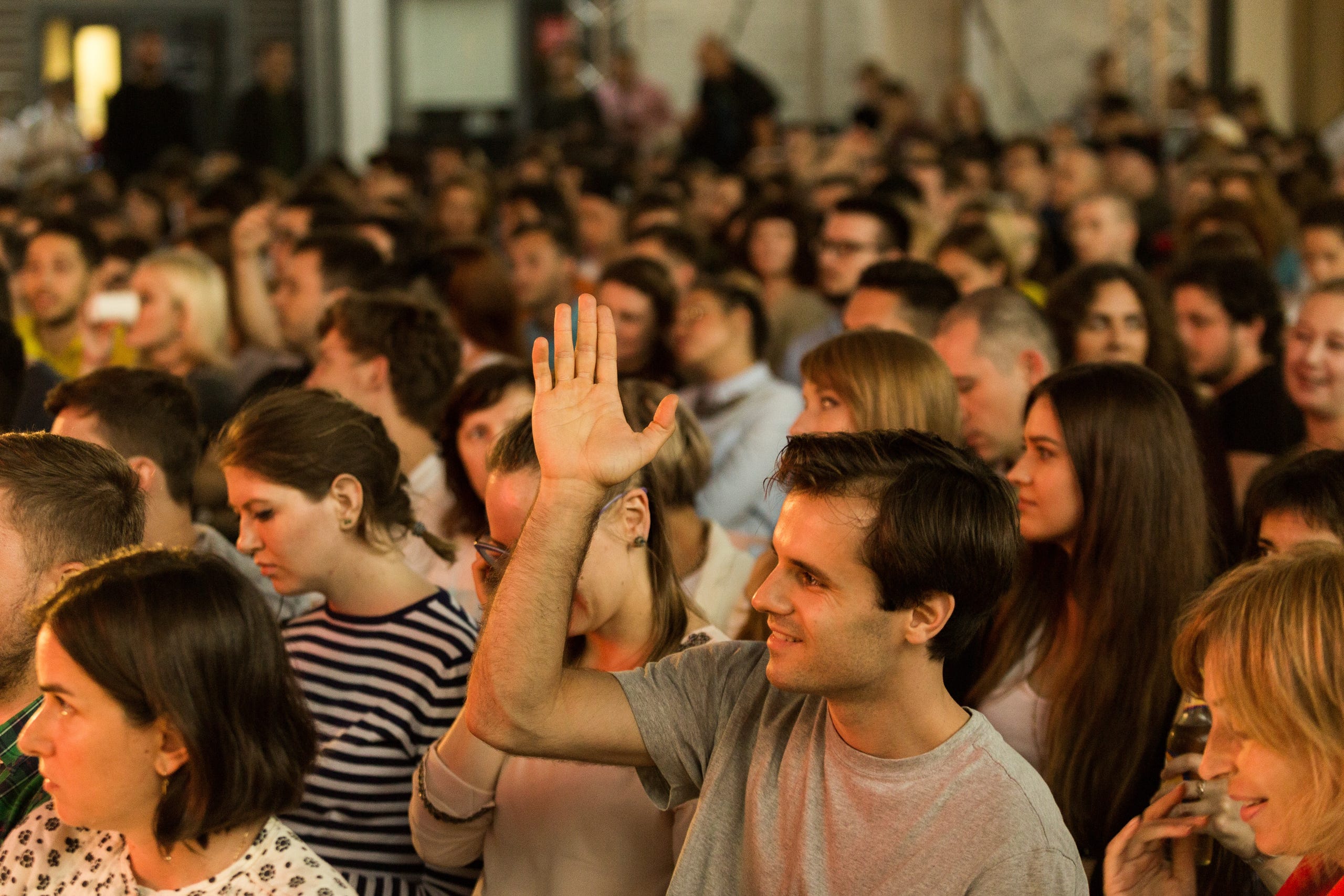 V-Edge Congress Munich 2019
January 26th, 2019
Speakers
At the V-Edge Congress you will get to know creators from the fields of science, business, activism, sports, cuisine and spirituality. Discussion groups and a workshop invite you to participate. You will be able to chat and network with speakers and guests during lunch and after the program.
Daan Luining, Co-founder and CTO Meatable
Daan Luining is Meatable's CTO and scientific mastermind. Daan lives and breathes clean meat and has been involved in the clean meat development since the earliest stages, having worked on the first lab grown hamburger in 2013. After that, Daan expanded his knowledge on the field at New Harvest, an NGO that funds academic research in cell-based meat. Now he has founded his own company using his experience to tackle the biggest challenges in the field.
Niklas Oppenrieder, Medical Director at Physicians Association for Nutrition e.V. (PAN)
Niklas studied medicine at the Georg-August University Göttingen and University of Köln. Having learnt nothing about nutrition during his medical education, he became aware of its huge power in preventing and treating disease at the VegMed Conference 2016 in Berlin. In 2018, together with colleagues of different healthcare professions he founded the non-profit organization "Physicians Association for Nutrition" (PAN). PAN aims to raise awareness among health professionals, policymakers, and the general public about the role of nutrition, while also providing tools for making positive dietary changes. Niklas currently works in the field of pediatrics and serves as PAN's Medical Director.
Jacek Prus, Business Innovation Specialist ProVeg Incubator
Growing up an enthusiastic meat eater in Texas, Jacek watched "Earthlings" during his philosophy bachelors which sent him down a path of animal activism. After a few years of militantly promoting veganism, he pivoted to help animals through a market-oriented approach which led him to pursue an MBA.
He is now the Business Innovation Specialist at the ProVeg Incubator, a part of ProVeg, an international food awareness organization with the mission to reduce the global consumption of animals by 50% by the year 2040. He has been involved in building the incubator from gathering startups, mentors and investors to developing ProVeg's services that will support the startups.
Dennis Michaelis, Activist
Dennis is a German animal rights activist, who is specialized in public speaking to vegan and non-vegan audiences alike, and especially enjoys talking at schools. He also organizes and conducts the "Cube of Truth"-demos in the Ruhr area (Western Germany). He holds a masters degree in electrical engineering and is currently pursuing his Ph.D. in the same field.
Lia Schmökel, nutrition scientist and founder of Nutrition Hub and NOURI
Lia is a nutrition scientist and entrepreneur with multiple years of hands-on experience specialising in food startups, entrepreneurship, product development, food marketing, nutrition communication and nutrition education.
By founding the herbal health company NOURI as well as Nutrition Hub, the largest digital community for nutrition scientists, she is able to be a part of something she truly believes matters: the creation of a food system that serves the planet and its people.
Fritz Horstmann, Founder GameChanger Academy and Vegan Coach
Fritz Horstmann is a vegan Online-Coach, Influencer and recognized as one of the most prominent voices advocating for a plant-based diet.
He is the founder of the GameChanger Academy that helps vegans build muscle and lose fat, so they can be more confident and create their biggest impact.
Frea Mehta, Ph.D. student at Ludwig Maximilian University, Munich
After earning two bachelor degrees in chemical engineering and molecular biology from Arizona State University, Frea was a Fulbright Researcher under Mark Post at Maastricht University where she worked on the creation of cell-based meat. She is now a Ph.D. student at the Ludwig Maximilian University in Munich where she hopes to steer her work in the cellular agriculture direction.
Anneline Waller, Blogger, Author Buddha Bowls and Yoga Instructor
With health-conscious parents, Annelina grew up in a whole food and veggie kitchen using whole grains, organic products and eating complex carbs. During an internship at a competence center of nutrition, she learned more in depth about healthy food, recipe creation, and the MOODFOOD Theory. At the end of 2016, Annelina completed her master degree in "Event – Sport – Health / Marketing Management", and shortly after released her first cookbook called Buddha Bowls. Now based in Berlin, Annelina is a full-time blogger and yoga instructor.
Anna Martin, Ph.D. student at the Fraunhofer Institute for Process Engineering and Packaging
After completing her bachelor and master degree in food technology and completing two internship in this field, one at Schwartauer Werke and one at Paleo 360, Anna is now a Ph.D. student at the Fraunhofer Institute for Process Engineering and Packaging. Numerous projects, most of them related to animal product alternatives, her interns and her own Ph.D. thesis keep her busy and engaged throughout the week.
Nicolas Hartmann, Co-founder and CEO VlyFoods
When moving through the ranks at The Blackstone Group (Private Equity) and Bain & Company (Management Consulting), Nicolas became increasingly unhappy with the purpose of his work. As a passionate vegan, consulting one of the biggest dairy companies in the world gave it the rest and he launched a plant protein dairy alternative company in Berlin called Vly Foods. They are very much early stage but excited to advance the plant-based movement in Europe and throughout the world.
Fabian Kreipl, Founder Vanilla Bean
Before co-founding vanilla bean, Fabian helped establish the mobile app agency market leader, Kupferwerk (#1 BVDW agency report subranking mobile), building the UX division and offering mobile strategy consultancy for the board of Telekom UK and Aldi amongst others.
At vanilla bean, where Fabian is responsible for business and product development, he combines his passion for mobile products and the wish to foster sustainable and plant-based food worldwide.
Frank Cordesmeyer, Bühler and Communication Director (Europe) for The Cellular Agriculture Society
Coming from a background in business management and food engineering, Frank is passionate about innovative technologies that enable the industrial production of alternative proteins. He is the Co-Founder & CEO of Good Seed Ventures, a venture capital fund supporting disruptive businesses that have the potential to create a more sustainable food supply chain. Parallel to being the Director of Communications (Europe) for the Cellular Agriculture Society, a non-profit dedicated to advancing the field of cellular agriculture, Frank is a project manager at the Bühler Group in the field of Biotechnology.
Sinah Diepold, Yoga Instructor
After studying Sports Science at the Technical University Munich and graduating from Iwanson International Contemporary Dance, Sinah spent some time in New York City. Today, she teaches ballet barre, dance and yoga in Munich, organizes retreats, workshops and festivals, models and on the side and writes her own book or on social media. Her book, Yoga Flow Balance will come out on January 18, initially only in German.